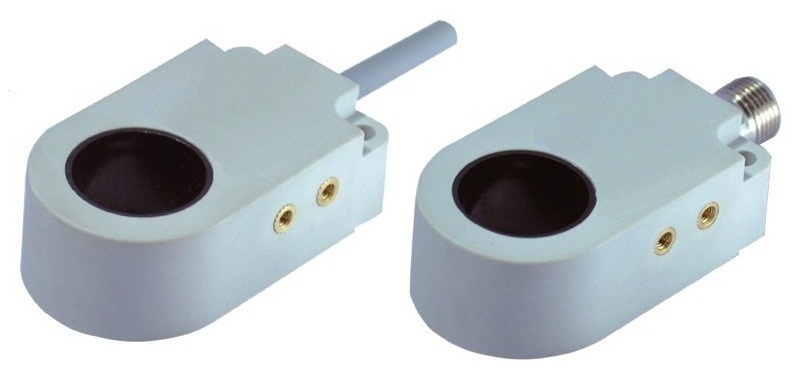 RS Series DC INDUCTIVE/CAPACITIVE RING SENSORS

Model:

RS Series

Market Price:

¥/

RequestPrice

Subscribe
Inductive Ring sensors can detect small metal objects passing through their active ring. These are sensors which have their sensing area formed in a ring and sensing occurs when a metallic mass enters this ring. They are particularly suitable for sensing, counting and checking small metal parts: screws, bolts, nuts, washers etc. and the control, detection, position, inspection and automation of machine tools & manufacturing systems.
1. Ring diameter is 6mm, 10mm, 15mm and 21mm; Customized type: 5mm - 21mm any size.
2. Operating Voltage: 10-30VDC, 10-60VDC; 6-12VDC(NAMUR)
3. Cable and connector type optional(excerpt for NAMUR).
4. IEC60947-5-2, IEC60947-5-6;
5. IP67 (IEC60529).
Delivery time: 7-15 working days.
DC INDUCTIVE RING SENSORS

Type

Ring Diameter (mm)

Shielded/non-Shielded

Housing

Material

Housing Size(mm)

Terminal

Version

Power

Picture

R6

6mm

Non-shielded

PBT Plastic

60x35x20

Cable

10-30VDC

R6

6mm

Non-shielded

PBT Plastic

60x35x20

Cable

10-60VDC

R6

6mm

Non-shielded

PBT Plastic

60x35x20

Euro-style

10-30VDC

R6

6mm

Non-shielded

PBT Plastic

60x35x20

Euro-style

10-60VDC

R10

10mm

Non-shielded

PBT Plastic

60x35x20

Cable

10-30VDC

R10

10mm

Non-shielded

PBT Plastic

60x35x20

Cable

10-60VDC

R10

10mm

Non-shielded

PBT Plastic

60x35x20

Euro-style

10-30VDC

R10

10mm

Non-shielded

PBT Plastic

60x35x20

Euro-style

10-60VDC

R15

15mm

Non-shielded

PBT Plastic

60x35x20

Cable

10-30VDC

R15

15mm

Non-shielded

PBT Plastic

60x35x20

Cable

10-60VDC

R15

15mm

Non-shielded

PBT Plastic

60x35x20

Euro-style

10-30VDC

R15

15mm

Non-shielded

PBT Plastic

60x35x20

Euro-style

10-60VDC

R21

21mm

Non-shielded

PBT Plastic

60x35x20

Cable

10-30VDC

R21

21mm

Non-shielded

PBT Plastic

60x35x20

Cable

10-60VDC

R21

21mm

Non-shielded

PBT Plastic

60x35x20

Euro-style

10-30VDC

R21

21mm

Non-shielded

PBT Plastic

60x35x20

Euro-style

10-60VDC

NAMUR INDUCTIVE RING SENSORS

Type

Ring Diameter (mm)

Shielded/non-Shielded

Housing

Material

Housing Size(mm)

Terminal

Version

Power

Picture

R6

6mm

Non-shielded

PBT Plastic

60x35x20

Cable

6-12VDC

R10

10mm

Non-shielded

PBT Plastic

60x35x20

Cable

6-12VDC

R15

15mm

Non-shielded

PBT Plastic

60x35x20

Cable

6-12VDC

R21

21mm

Non-shielded

PBT Plastic

60x35x20

Cable

6-12VDC
DC CAPACITIVE RING SENSORS

Type

Ring Diameter (mm)

Shielded/non- Shielded

Housing Material

Housing Size(mm)

Terminal Version

Power

Picture

R6

6mm

Non-shielded

PBT Plastic

60x35x20

Cable

10-30VDC

R6

6mm

Non-shielded

PBT Plastic

60x35x20

Euro-style

10-30VDC

R10

10mm

Non-shielded

PBT Plastic

60x35x20

Cable

10-30VDC

R10

10mm

Non-shielded

PBT Plastic

60x35x20

Euro-style

10-30VDC

R15

15mm

Non-shielded

PBT Plastic

60x35x20

Cable

10-30VDC

R15

15mm

Non-shielded

PBT Plastic

60x35x20

Euro-style

10-30VDC

R21

21mm

Non-shielded

PBT Plastic

60x35x20

Cable

10-30VDC

R21

21mm

Non-shielded

PBT Plastic

60x35x20

Euro-style

10-30VDC